We love adventures here at Cross Hill Lodge and Geodomes! There's literally an adventure for every season here from our stunning hunting and fishing seasons to winter fun with snowboarding and skiing, but did you know that Cross Hill is also an epic place to experience in the spring and summer months as well?
While many of our guests are content languishing in the lavish luxury of the Cross Hill Geodomes catching up on some much needed R&R, we know that you also love a little bit of adventure. Exploring more of this stunning region is definitely worth it, and there's more than one way to get back to nature here. From a serious hike to a scenic stroll, let us share some of the best walks and hikes to experience the best of our beautiful area.
There are so many incredible walks and hikes around the Lake Hāwea region. Depending on your level of fitness, there's a walk or hike suitable for everyone. From the easy, undulating Gladstone Track on the Lake Hāwea lakefront, to the dramatic challenge of Corner Peak at 1683metres at the far end of Timaru Creek Road, there's no shortage of epic views to be enjoyed.
Gladstone Track:
Located along the lakefront, Gladstone Track is a fairly easy walk or bike ride that winds it's way from the start of the Lake Hāwea township all the way to Johns Creek in the righthand corner of the lakefront. 12.4kms long, the walk can be started and ended at different areas along the way as there are numerous access points including Scotts Beach, Kite Surfers Beach, The Esplanade car park, Flora Dora Parade entrance, and Johns Creek. Amazing views and the opportunity to stop and skip some stones, this is the perfect walk or bike ride for nearly every fitness level and age.
John's Creek:
At the far end of Lake Hāwea, down a short partially shingle road, you'll find a little corner of paradise called John's Creek. This track does eventually join up to the Gladstone Track and those wanting to a bit of a longer walk will enjoy walking or biking both. You can start at either end, but if you want to experience a little more of the farmland, then John's Creek is the place to start. It's also nestled in the corner of the lake that is encapsulated by the epically wild mountains of the eastern shore. Many of the other great hikes branch off from this end of the lake including the Dingle Burn, Timaru Creek, Corner Peak, and Breast Hill. Perfect for a walk or bike ride, the track is even, well maintained and an easy undulation along the lakes edge.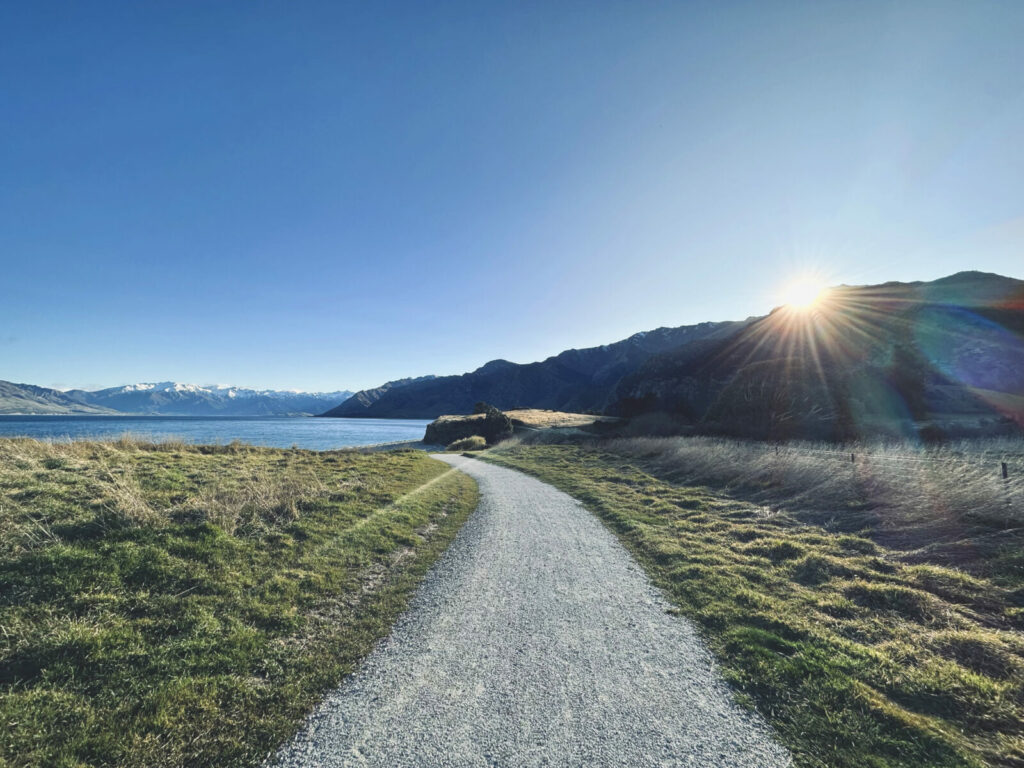 View from John's Creek Track at sunrise
Dingle Burn Peninsula Track:
Located down Timaru Creek Road, the Dingle Burn is a pretty popular fishing spot for those keen on a bit of fishing. A 3-4 hour walk, it is rated as an easy walk for most levels of fitness. On a clear day, Mt Aspiring/Tititea can be seen from the track.
Isthmus Peak:
Some of the most stunning views are to be had from this popular alternative to the traditional Wānaka favourite #mustdo hike, Roy's Peak. Whether you walk or mountain bike this track, a good 1385m high at the peak, you'll be blown away by the stunning views over both Lake Hāwea and Lake Wānaka as well as some of the most dramatic undulating views of the Southern Alps/Kā Tiritiri o te Moana. It is steep in some places and the walk can take around 5-7 hours and is 16kms in total. Make sure you take plenty of water, sunscreen, proper walking/hiking shoes. Always tell someone where you're going if heading out on a big hike. Closed November – December for fawning and March to June for hunting season.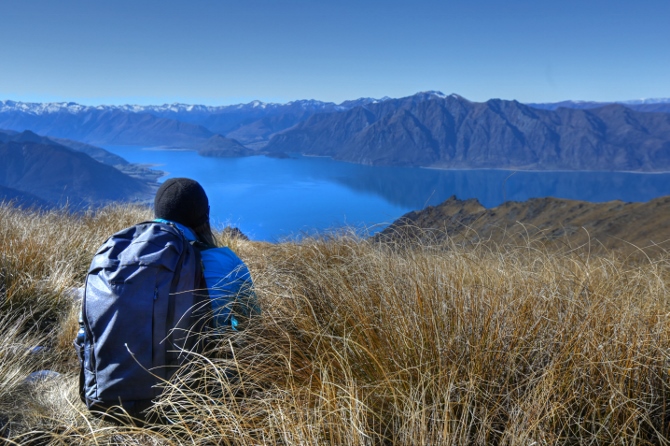 View from Isthmus Peak Track
Corner Peak:
This is hike not for the faint-hearted. At a whopping 1638m high, it is one of the more challenging hikes in the area. It does however, offer some of the most spectacular views available in a region that is jaw-droppingly full of them. Adventurous, challenging, a little confusing in terms of route indicators, Corner Peak is one to tick off if you're an experienced tramper or hiker.
Grandview Mountain Track:
An 18 kilometre, 4-6 hour, 1398m elevation hike, you will be well-rewarded with the views over Lakes Hāwea and Wānaka and the magnificent mountains beyond. Starting at the Grandview Creek car park, hikers are given a variety of terrains on this trail. From pockets of kānuka shrubland to farmland on the lower sections to the small remnant of Beech forest on up to the alpine tussockland that dominates the tops, then on to rocky terrain and trails if you choose to combine this track with the Breast Hill trail.
TO NOTE:
With all tracks and trails there can be a certain amount of risk. Make sure you have enough water, sunscreen, bug spray, good walking or hiking shoes, the right clothing and extras for warmth if the weather turns quickly – even in summer! Check the Department of Conservation information on any track before heading off.