Our vision at Cross Hill is to share stories and connect people with our land, our community, our people and our country. All our suppliers are specifically chosen for their ethical and forward thinking approach to sustainability and our environment.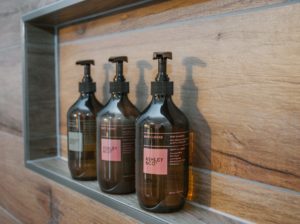 Our bathroom scents of choice are by Ashley & Co, a New Zealand owned and operated company based in Auckland.  They are a small company with a focus on material stability, sustainability of production, ease of re-use and recycling. Their values very much align with those of Cross Hill and their new tubes are now "I'm Green" verified, made from Sugarcane, a renewable resource.
Their boxed packaging is fully recyclable and biodegradable and comes with FSC certification, meaning the pulps used are from managed forests. Many of their bottles are also now being made from 100% recycled content.
The Ashley & Co business began over decade ago in a garage; a creative experiment led by the ever-curious owner Jackie Ashley. Potions were concocted and scents created, informed by Jackie's memories of exotic travel and a childhood growing up in Hong Kong.
Eventually, once the scents reached perfection, Jackie's husband Ben was enlisted to help. A graphic designer, Ben added his bit of magic, too. The packaging and product design took shape, a true creative partnership was formed and the Ashley & Co. brand became a reality.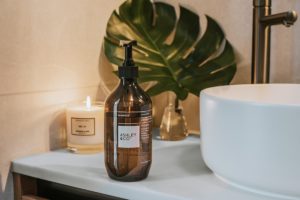 Nowadays, Ashley & Co® has expanded with new partners, new premises and many new products. Their range includes 8 signature scents and over 50+ products and is found in some of finest retail hotspots in NZ and abroad. And you'll find us way up high due to our recent partnership supplying products for Air New Zealand's Business and Premium Economy class inflight packs.
Their commitment to make simple and effective products with the fewest, and cleanest ingredients is a key aspect of their sustainability vision and the result is a mix of high-quality botanical and formulated ingredients. We hope you enjoy their gorgeous fragrances as much as we do.
To read more about Ashely & Co visit the website ashleyandco.co