Cross Hill is perfectly located to experience the wonders of the night sky. Our geodesic domes have clear fronts and floor to ceiling windows enabling you to lie in your comfy bed and see the stars, moon and night sky at its best. This week guests will be in for an extra special event.
On Wednesday 26 May, South Islanders on the east coast will be in prime position to have unobstructed views of the first visible "blood supermoon" in nearly 40 years in New Zealand.
Blood moons – also known as total lunar eclipses – occur when the Earth lines up between the Moon and the Sun. This hides the Moon from sunlight and blocks most of the blue light, with the remaining light refracting onto the Moon's surface and causing a red glow.
A "supermoon", meanwhile, occurs when the Moon is at its closest point in its orbit around Earth – making it appear much larger than usual.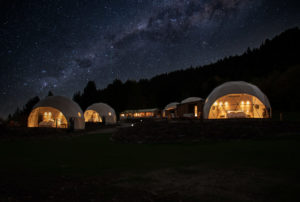 The lunar eclipse is due to last five hours, beginning at 8.47pm next Wednesday, and ending at about 1.49am the next morning. However, the period of "totality", where the Moon is completely hidden from the Sun by Earth, and when the reddening is most noticeable, will only last about 14 minutes, from 11.11pm – making it one of the shortest eclipse totality periods.
"Blood supermoons occur every few years, but aren't always visible in Aotearoa, with the last one in December 1982," Stardome Observatory and Planetarium astronomy educator John Rowe said. "We've waited almost 40 years for this, so it's exciting." Otago Daily Times, 21 May 2021.